Phil Simms Plastic Surgery – Every die-hard American football fan will surely know who Phil Simms is. The 66 years old sportscaster had spent 15-years of his life as a quarterback for the New York Giants of the National Football League (NFL).
Currently, he is working as a sportscaster for the CBS network. Being constantly on TV, Phil is known for his youthfulness and overall appearance. This led fans to believe that he had plastic surgery before.
So, is the rumor regarding Phil Simms plastic surgery true? Or is it just a big hoax? Keep reading to find out.
Phil Simms Plastic Surgery Rumors
A long-time fan of the NFL will surely be familiar with Phil Simms. The Kentucky former NFL player has been appearing on television since 1994 by joining ESPN and then moving to the NBC sports network.
His sports achievement is also something to brag about. During the Super Bowl XXI, Phil was named the Most Valuable Player (MVP) of the game after leading the Giants to a 39-20 victory over the Denver Broncos.
His youthful appearance sparks suspicion among his fans. Many theorized the former NFL player has undergone plastic surgery.
However, the rumor turned out to be a big misunderstanding. Phil Simms did undergo a surgical procedure. However, the purpose of the procedure is to remove his skin cancer.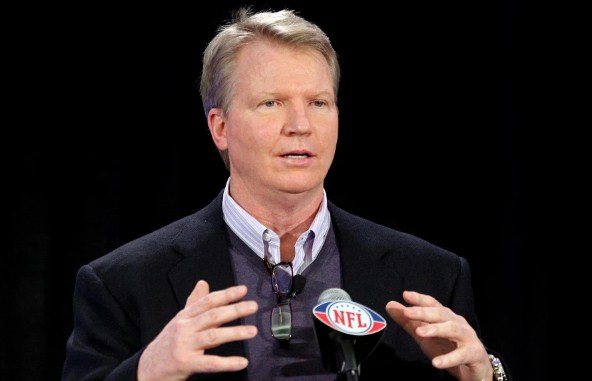 Phil Simms Skin Cancer
Phil Simms was diagnosed with skin cancer by his dermatologist in 2010. A Fox News interview revealed that the former NFL player had precancerous cells everywhere on his body, including his chest, legs, and hands.
This led the former NFL player to undergo several Mohs surgery procedures to remove the cancerous cells from his skin.
During the surgery procedure, layers of skin containing cancer cells are progressively removed and examined. The procedure is deemed successful if there are no cancer cells remaining.
However, due to the numerous spots of precancerous cells found in Simms' body, the procedure was done more intensively.
Phil's Skincare
Due to his experience in treating skin cancer or melanoma, Phil Simms partnered with the American Academy of Dermatology (AAD) to launch the Spot Me campaign. The campaign aimed at educating Americans about the risk of skin cancer.
In addition, it also encouraged men of all ages to prioritize skin health via regular screening. Recently, a 2018 video shows that the former NFL player is still dealing with skin cancer.
For that reason, he has undergone some skin care and treatment routine to prevent the melanoma from coming back. Some of those treatments may include avoiding tanning and using an SPF 15 sunscreen regularly.
Final words
Besides his brilliant NFL and Super Bowl career, many football fans know Phil Simms for his sports commentary on television. Some people even idolize Phil Simms for his youthful appearance. However, the former NFL player's appearance is not the result of plastic surgery.
Read Also : Rupert Everett Plastic Surgery
He indeed had undergone several surgical procedures to treat his skin cancer, which is something that he's still dealing with to this day. So, let's hope that Phil Simms can get better from his skin cancer.